Sotheby's to present largest fancy vivid blue diamond ever at auction
Share - WeChat
A rare fancy vivid blue diamond weighing 15.10 carats and expected to achieve in excess of 305 million yuan ($48 million) will go under the hammer at Sotheby's.
The gem, called De Beers Cullinan Blue, is among the most valuable blue diamonds ever offered at auction and the largest internally flawless step cut vivid blue diamond that the Gemological Institute of America has ever graded.
The De Beers Cullinan Blue will anchor Sotheby's Hong Kong Luxury Week, and will be offered in a stand-alone, single lot live auction in Hong Kong at 8 pm on April 27.
Given the global interest in this gem, it will be showcased on a worldwide tour, traveling to cities such as New York, London, Dubai, Singapore, Shanghai, Beijing, Shenzhen, and Taipei.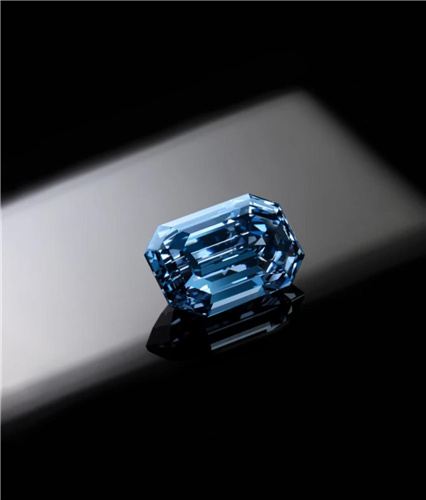 "Blue diamonds of any kind are rare on the market, but this is the rarest of the rare; nothing of remotely similar caliber has appeared at auction in recent years," Patti Wong, chairman of Sotheby's Asia, said.
"The De Beers Cullinan Blue stands as a proud masterpiece that has been gifted from nature with the hues of the sky and sea, perfected through a step-cut that is bold, distinctive and masterful," Wenhao Yu, chairman of jewelry and watches at Sotheby's Asia, added.
The diamond was discovered at the Cullinan Mine in South Africa in 2021. With only five 10-carat+ blue diamonds ever having come to auction, none of the predecessors have exceeded 15 carats, making the appearance of The De Beers Cullinan Blue a landmark event in itself.