Abhorrent Western lies about Xinjiang
Share - WeChat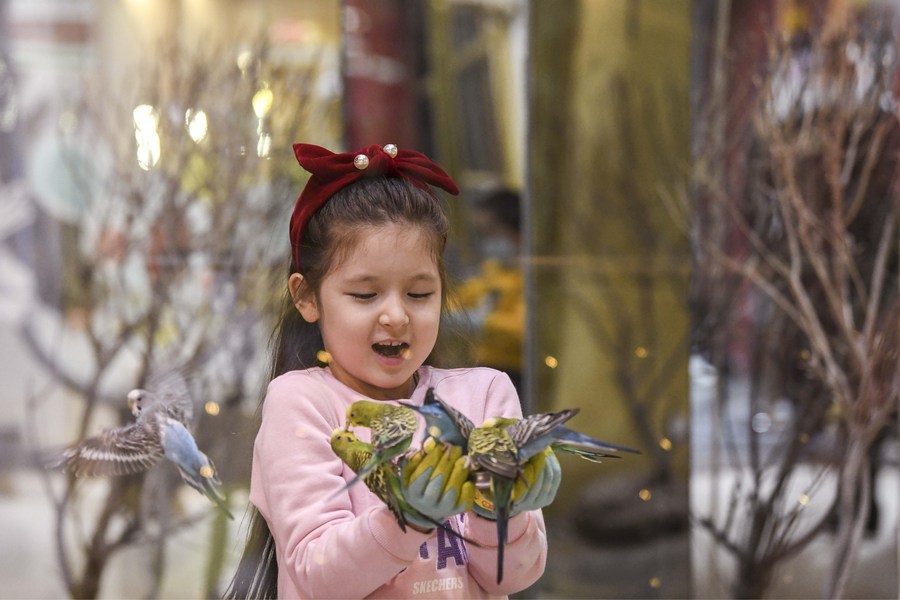 The Xinjiang Uygur autonomous region, which is also a center of activities and logistics hub of the Belt and Road Initiative, has seen unprecedented development and progress, and people of all ethnic groups and cultural backgrounds in the region enjoy equality and equal rights, and live with dignity.
Xinjiang's cotton output accounts for about a fifth of the world total, and it has helped China to increase its cotton production over the past six decades. As per a report, China's textile industry is the biggest exporter to major and leading brands worldwide.
For many major Western clothing brands, China has been their biggest growth market for the past couple of decades. In fact, China is the world's biggest apparel market, accounting for more than 24 percent of global sales, according to one report. And while Chinese-made fabrics may contain cotton from both Chinese regional and international sources, China exports both cotton yarn and fabrics to apparel-manufacturing countries.
Xinjiang's cotton is relatively of high yield and good quality, and the region is an important production area of upland cotton and sea-island cotton with perfect cultivation and management technology.
However, this undeniable reality is now being disregarded, distorted and politicized by a number of malicious mainstream media in the West through their baseless narratives about so-called human rights violations, child labor and Muslim genocide in Xinjiang. This US-led propaganda is the main cause behind the West's boycott of Xinjiang cotton and cotton products.
The ban on Xinjiang cotton, along with the vaccine conspiracy, G7's opposition to the Belt and Road Initiative, and the AUKUS alliance among Australia, the United Kingdom and the United States, and other hostile activities manifest the West's continued hypocrisy over China.
The US is claiming to be sympathetic toward Muslims, yet it is responsible for the biggest humanitarian disasters haunting millions of Muslims and the violations of sovereignty in the contemporary world, from the infamous American invasions of Afghanistan and Iraq to the bombings of Libya, Syria, and many other states.
The US is the most prominent opposition to China-led initiatives and programs. It has been trying to check China's rise through dirty propaganda and media campaigns. At a time when many countries are helping each other to contain the COVID-19 pandemic, the US has been using offensive means to sabotage China's inclusive economic development projects and strong global outreach.
Under the leadership of the Communist Party of China, the country holds that development is the right of all countries rather than the exclusive privilege of a few. The visionary leadership is committed to pursuing development for China and the world and bringing benefits to all. China has been contributing in great measure to the global economy thanks to its continuous, stable development. Also, China's achievements in many fields have brought greater convenience for people worldwide and injected new impetus into the field of technological innovation worldwide and the global economy.
Given the many challenges facing the world, there is a need for wider integration, not rivalries or fierce competitions. The West, especially the US, must abandon its Cold War mentality that jeopardizes global stability and peace. The US seems to be pursuing its vicious agendas via coercive actions and negative rhetoric against China. But by doing so, the US would be lifting the proverbial rock only to drop it on its own feet because such political maneuvers cannot impact China's irreversible global outreach.
The malicious attempts to start conflicts and demonize China are doomed to failure, because truth will inevitably win over all lies. The Muslim community in Xinjiang is being portrayed as being mired in abysmal poverty, and subjected to acute injustice and grave oppression. Such allegations are baseless and mere political campaigns against a rising China, and the Western media's fabricated stories are aimed at maligning China's global image.
I have been to Xinjiang many times and witnessed in person the region's development over the years. Xinjiang residents' per capita income and quality of life have improved manifolds thanks to the sustainable projects implemented by the central government. And all evidence supports the view that the central government has always treated the Uygurs and other Muslim communities with respect.
Besides, the government has introduced laws that prohibit ethnic and religious discrimination, guarantee proportionate representation of all ethnic groups in government jobs, and provide legal protection for indigenous customs. Indeed, Xinjiang has become a modern society.
China has eradicated abject poverty across the country including in Xinjiang, where a large number of jobs have been created. As a result, the employment level is stable.
Xinjiang's cotton industry is expected to develop further. The upgraded farming techniques, advanced mechanisms for agriculture productivity and an efficient workforce are the key factors in making China the world's biggest producer and supplier of cotton.
And despite the fierce market competition, China will continue to use its advantages to increase cotton production and supply it to other countries. Due to China's dynamic policies and development projects, many developing countries have affirmed their support for and trust in China. Therefore, the West's despicable attempts to influence people's views through lies in order to smear a state will face righteous opposition globally, from all those who value truth, equality and justice.
The author is the executive director of Pakistan Research Center for a Community with Shared Future.
The views don't necessarily reflect those of China Daily.
If you have a specific expertise, or would like to share your thought about our stories, then send us your writings at opinion@chinadaily.com.cn, and comment@chinadaily.com.cn.
Most Viewed in 24 Hours
China Views