Engineer builds a new life
Share - WeChat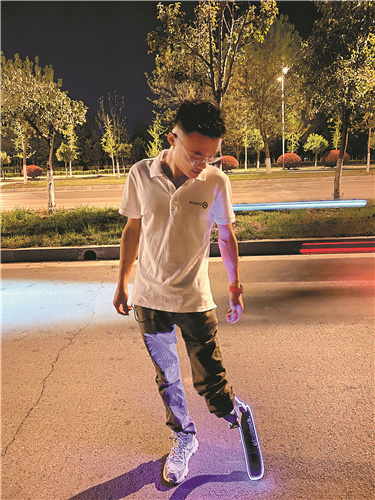 Overcoming accident that cost him his leg, Liang Kaiyu has developed a customized artificial limb.
For engineer Liang Kaiyu, one thing is clear: What doesn't kill you makes you stronger. Losing his left leg above the knee in an explosion when testing his self-built automatic electronic motor in January 2020, the 30-year-old used his engineering skills to make his prosthetic limb more comfortable and powerful than a real leg.
"Getting over the darkest moment in my life, my artificial limb is now a part of me, which makes me stand out from other people," says Liang from Liangshan county, Jining city, Shandong province.
He has become an overnight internet sensation on short-video streaming platforms, such as Bilibili, Douyin and Kuaishou, for sharing his designs and upgrades on his high-tech prosthetic leg to make it close to, or even better than, a real one. He currently has more than 41,000 followers on Bilibili.
After his optimism and courage made national headlines, Liang has gone viral on social media. On micro-blogging platform Sina Weibo, his story garnered more than 21 million views so far. Many users refer to him by the nickname "Iron Leg Man".
"What amazes me most is not your skills, but your confidence after such a trauma," a Bilibili user named Modaren says.
Liang says: "I hope my videos can be inspiring to people struggling through tough times, just like I have been through. Even a smile will make it worth it."
Since late 2020, he has customized and upgraded his high-tech prosthesis, including fitting a shock absorber and installing a charger port.
One of the latest upgrades is the addition of colored LED lights to his running blade. The video of him running at night has been viewed more than 111,000 times on Bilibili.
The LED lights can be connected via Bluetooth to a smartphone and change in color as they react to music, according to Liang.
"Although China has millions of amputees, people with a prosthesis are still a rare sight on the street. My video may, in some way, encourage them," the man says, adding that prostheses can look cool.
Bad breaks
Before the explosion, Liang opened a manufacturing plant in his hometown and lived a contented life with his son and his pregnant wife.
As an engineer, building things was a hobby in his spare time. When he saw that a foreign engineer had developed an autonomous e-bike, he found the materials online and decided to build one himself.
Most Popular