Homing in on success
Share - WeChat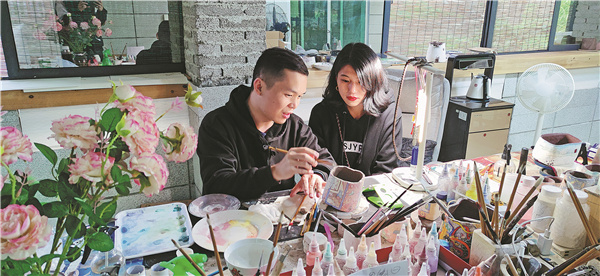 Designer learns pottery to reproduce scenes from his village in Hunan.
Women in ethnic clothing and accessories, some countryside scenery and birds in a bamboo forest all appear on Tan Xianqi's pottery works.
The 30-year-old from a small village in Jingzhou Miao and Dong autonomous county, Central China's Hunan province, has drawn inspiration from his hometown and turned the images into artistic expressions.
"The distinctive ethnic culture, food and architecture are nothing if not appealing," Tan says.
The silverware with engraved patterns of Miao people, brocade works and the Fengyu ("wind-rain") Bridge that is a unique example of construction by the Dong people are among the essence of traditional culture in Jingzhou.
Since he went to study art design at Heilongjiang University in Harbin, Northeast China's Heilongjiang province, in 2011, the village scenes have appealed to Tan.
"I love art and so decided to leave home for college to explore other regions of the country for inspiration," Tan says.
He picked up interior design and looked into features of ancient and modern Chinese architecture, as well as art history from home and abroad.
"It has given me new perspectives toward things back home," Tan says. "If anything, I developed more appreciation for the village's beauty."
His bond with Jingzhou grew stronger as he returned during the summer and winter vacations and acquired internships as a teacher at a local art-training facility.
"I used my experience to help prepare local students who went on to pursue arts in college," Tan says.
In his interactions with the students, he developed his own way of teaching art, which not only gave him a sense of achievement but also endeared him to people around.
"When teaching, I saw things from the students' perspective, encouraged them to paint about various ideas, and they were responsive to my approach," Tan says. "I was a bit reluctant to leave when the vacations were over."
Tan was faced with a tough choice in his senior year when many companies from Harbin and Beijing visited his school for hiring.
"Like most of my classmates, I went for some interviews and got several job offers," Tan says.
Most Popular